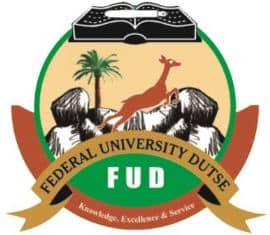 Currently, Federal University Dutse (FUD) is at the beginning of another admission year (2020/2021 academic session) where candidates seeking admission into the school are eager to know the cut off mark for all courses offered in the school.
It isn't out of place for candidates to know who want to be eligible for FUD Post UTME to know the FUD cut off mark that will make them eligible to sit for the screening. And for this reason, I have decided to put this into writing to help all candidates who chose Federal University Dutse in UTME for the school minimum score.
You should be aware that five (5) credit passes in relevant subject in SSCE is a compulsory requirement for admission.
Federal University Dutse Cut Off Mark
Out of the courses below, the federal university dutse cut off mark for medicine is the highest with a mark of 215. Check below for other programmes.
B.A Agriculture 160
B.Sc. Economics – 180
B.A. English – 180
B.Sc. Political Science – 180
B.Sc. Criminology and Security Studies – 180
B.Sc. Botany – 170
B.Sc. Chemistry – 180
B.Sc. Computer Science – 170
B.Sc. Environmental Management & Toxicology – 175
B.Sc. Mathematics – 160
B.Sc. Microbiology – 180
B.Sc. Physics – 180
B.Sc. Zoology – 170
B.Sc. Biochemistry – 190
B.Sc. Biotechnology – 180
B.Sc. Biology – 160
Medicine and Surgery (MBBS) – 215
B.Sc. Human Anatomy – 180
B.Sc. Human Physiology – 180
I hope I have been able to provide all the information needed as regard this university for all candidates intending to study in this prestigious school. And if you have any question as regard anything on FUD don't hesitate to drop a comment below.