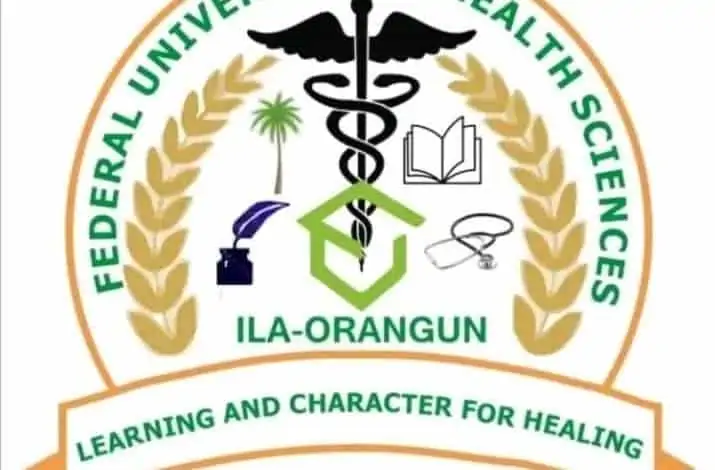 The management of Federal University of Health Sciences, Ila Orangun Osun State (FUHSI) has released the cut off mark for the 2022/2023 academic session for all the courses being offered in the school.
FUHSI is one of the newly established health universities in Nigeria by President Muhammadu Buhari. And currently, the number of approved courses in the school is Nine (9).
FUHSI Cut Off Mark
Below is the minimum point you need to have to be able to participate in the school Post UTME.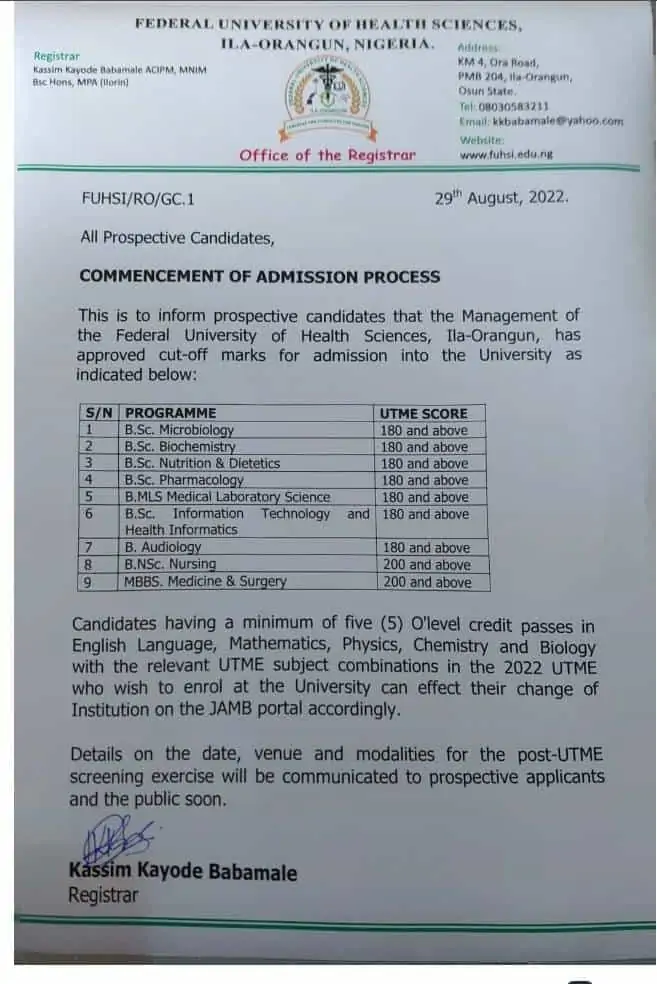 | | |
| --- | --- |
| Programme | UTME Score |
| B.Sc Microbiology | 180 and above |
| B.Sc Biochemistry | 180 and above |
| B.Sc Nutrition and Dietetics | 180 and above |
| B.Sc Pharmacology | 180 and above |
| B.MLS Medical Laboratory Science | 180 and above |
| B.Sc Information Technology and Health Informatics | 180 and above |
| B.Sc Anatomy | 180 and above |
| B.NSc Nursing | 200 and above |
| MBBS. Medicine and Surgery | 200 and above |
Candidates having a minimum of five (5) O' level (SSCE) Credits in Mathematics, English, Chemistry, Physics and Biology with the relevant subject combinations in the 2022 UTME who wish to enrol at the university can effect their change of institution on the JAMB portal accordingly.
Detail on the date, venue and modalities for the PUTME screening exercise will be communicated to prospective applicants and the public soon. For more information, you can visit the school website fuhsi.edu.ng.
FUHSI Post UTME Cut Off Mark
The Post UTME Cut off point has been released and the catchment area point.
Medical Laboratory Science: Merit: 60.91, Catchment: 55.81
Nursing Science: Merit: 66.4, Catchment: 61.1
Audiology: Merit: 50.91, Catchment: 50
Biochemistry: Merit: 50.35, Catchment: 50
Information Technology And Health Informatics: Merit: 53.96, Catchment: 50
Microbiology: Merit: 53.11, Catchment: 50
Nutrition And Dietetics: Merit: 52.63, Catchment: 50
Pharmacology: Merit: 58.08, Catchment: 50
Medicine And Surgery (MBBS): Merit: 71.56, Catchment: 65.75
The PUTME cut off mark is determined through the combination of mark obtainable from the screening exercise, O'level grade, and JAMB score.
The average pass mark is 50%. However, courses like Medicine and Nursing have higher mark because they are competitive.
Read: JAMB cut off mark for all institutions in Nigeria