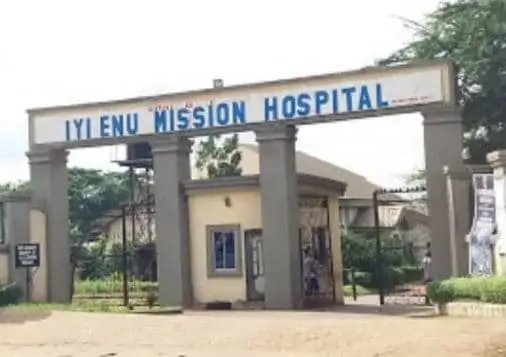 Iyi-Enu Mission Hospital, Ogidi, Anambra State, Basic Nursing Programme admission form is now on sale and applications are invited from suitably qualified candidates for admission into the School for the 2023/2024 academic session.
Sales of form has commenced at the cost of Seventeen Thousand Five Hundred Naira (N17, 500) only.
Always check the website, your mail and the school Facebook page for the latest updates. Do not pay money to anyone or a private account. You do so at your own risk. Wishing you the very best in your preparations.
Admission Requirements
You must be a science student that has graduated from secondary school or in SSS3.
A minimum of five(5) O'level credit in not more than two (sittings) from WAEC/GCE, NECO and NABTEB. You can combine WAEC and NECO but not NABTEB.
How to Apply for Iyi-Enu Mission Hospital School of Nursing Admission
Pay the sum of twelve thousand, four hundred naira (#17,500) to any of the following banks;
Akuchukwu Microfinance Bank within the hospital vicinity
Acc Name: School of Nursing, Iyi-Enu
Acc No: 0111000168
OR
EcoBank
Acc Name: Iyienu School of Nursing
Acc No: 2182038360
Those paying into Akuchukwu microfinance bank will go to the account departments to change their teller to receipt.
Proceed to the school for upload of your receipt and names or
For those who pay through EcoBank, Log on to https://portal2.iyienusonam.co.uk/jaxt.php?n=n and fill the form or log on to www.iyienusonam.co.uk:

Click on the Application form.
Submit teller to upload your receipt details for those that paid into Akuchukwu microfinance bank or your teller details for those that paid into Ecobank. Input all necessary and correct information needed.
Your pin (Registration ID) will immediately be generated and sent within minutes/the hour to your mail/phone number. Please make sure you put in the correct email, as it will be generated and sent to your mail directly. Please, endeavour to put your correct email.
Once your pin (Registration ID) is sent, log on to http://iyienusonam.co.uk/p/jax_reg.php and fill in the figures sent to you via mail.
This will open your form.
Endeavour to fill in all information and upload all the necessaries.
Create your username and password, make sure they are easy for you to remember as it will give you access to your result and your data anytime any day.
Submit the form and print out your exam slip which will give you access into the examination hall during the entrance examination.
Should there be a problem or any challenge in the course of registration, do not hesitate to contact the following (Mon-Fri: 8 am- 5 pm, Sat: 10 am-4 pm)
Abel Ojoma E; 08188104942; 08071061354;
Joseph Akinwale: 07032474589; 08022477632
You can also send mail to – info@iyienusonam.co.uk; soniyienu@yahoo.com; brosabel1710@iyienusonam.co.uk.
Read: List of school of nursing form on sale