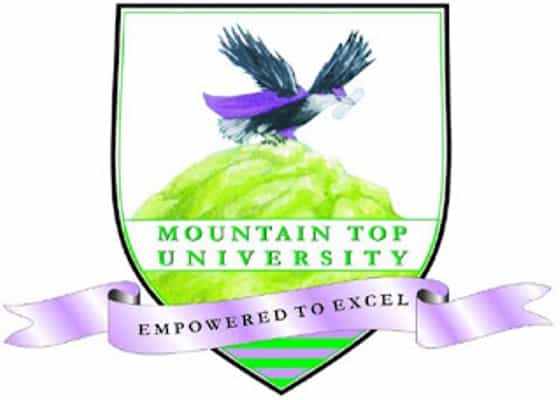 Mountain Top University is a confederation of Colleges and Departments. The Colleges are governed by their own statutes and regulations, but are integral to the make-up of the Mountain Top University.
There are two Colleges, which each form an administrative grouping of departments. They are:
College of Basic and Applied Sciences
College of Hunmanities and Management Sciences
There is a Council of each College – including representatives of its Departments. The Schools are represented on the General Board.
Below is the list of courses offered in the school, admission requirements, and school fees.
MTU Courses
Applied Geophysics
Geology
Biochemistry
Biotechnology
Microbiology
Biology
Chemistry
Industrial Chemistry
Physics
Physics and Electronics
Computer Science
Mathematics
Securities and Investment
Food Science and Technology
Accounting
Finance
Business Administration
Industrial Relations and Personnel Management
Public Administration
Economics
Mass Communication
English
Music
Religious Studies
MTU Admission Requirements
Candidates applying to the school must have minimum of 5 O'level credit which must include Mathematics and English in WASSCE OR NECO.
Mountain Top University School fees
The school fees is from 100level to 500level for courses that are 5 years course. At MTU, the highest fee is paid by students studying applied geophysics and geology (N680,000). This implies that MTU is one of the cheapest universities in Nigeria.
If you want to check the break down, kindly visit the school portal https://mtu.edu.ng/undergraduate/
Applied Geophysics – N560,000 – N680,000
Geology – N560,000 – N680,000
Biochemistry – N530,000 – N650,000
Biotechnology – N530,000 – N650,000
Microbiology – N530,000 – N650,000
Biology – N270,000 – N615,000
Chemistry – N270,000 – N615,000
Industrial Chemistry – N530,000 – N650,000
Physics – N270,000 – N535,000
Physics and Electronics – N530,000 – N650,000
Computer Science – N530,000 – N650,000
Mathematics – N270,000 – N535,000
Securities and Investment – N530,000 – N650,000
Food Science and Technology – N530,000 – N650,000
Accounting – N530,000 – N650,000
Finance – N530,000 – N650,000
Business Administration – N530,000 – N650,000
Industrial Relations and Personnel Management – N530,000 – N650,000
Public Administration – N530,000 – N650,000
Economics – N530,000 – N650,000
Mass Communication – N545,000 – N660,000
English – N460,000 – N580,000
Music – N460,000 – N580,000
Religious Studies – N235,000 – N465,000