NABTEB result for 2021/2022 May/June examination has been released. The results statistical analysis shows that 58,307 candidates, representing 72.96 per cent of the candidates who sat both exams, scored five credits including English and Mathematics
Furthermore, it was disclosed that a total of 74,069 candidates obtained 5 credits and above with or without English Language and Mathematics; this represents 92.68 per cent of the candidates that sat for the examinations.
This article is written with the aim of providing a step by step guide on how to check your NABTEB result for May/June or Nov/Dec diet, and Modular examinations' results.
In order to access your result, you will need to purchase a Scratch card with a PIN conceals on the reverse side of the card to access the NABTEB e-World service. The PIN is a unique 12-digit number that is required to access the result.
Note: Do not use a card that has already been used for another candidate and don't enter an invalid e-mail address for result to be sent as this will penalize you by deducting your card use. You may check your results up to a maximum 5 (five) times with the use of 1 (one) Scratch card.
How to Check NABTEB Result
Visit the NABTEB result checker portal https://eworld.nabtebnigeria.org/
Enter your Candidate Identification Number in the box provided
Select the Type of Examination (May/JUNE or Nov/Dec)
Enter the 4 digits of your Examination Year e.g. 2018 or 2019
Enter the Card Serial Number found on the reverse side of your Scratch card.
Enter the PIN on your Scratch card
Click Submit and wait for the results window to come up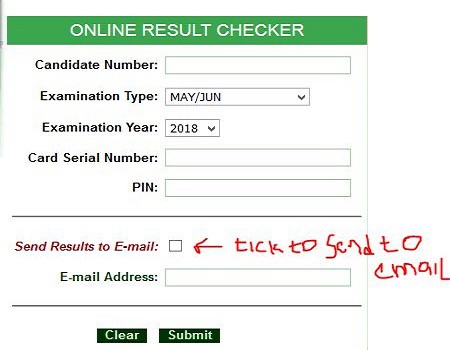 To have your result sent to your e-mail address, do the followings:
Follow steps given above, and
Tick the "Send results to E-mail" option on the NABTEB e-World homepage and then
Enter the e-mail address in the field labeled "E-mail".
After this Click Submit and the results will be sent to the e-mail address indicated within a matter of minutes.
How to check your Result using SMS
Send SMS in the format below:
NABTEB*ExamNo*PIN*ExamType*ExamYear To short-code 32327
For example:
To check for May/June results,
NABTEB*01001001*123456789012*MJ*2012
To check for Nov/Dec results,
NABTEB*01001001*123456789012*ND*2012
Ensure you adhere strictly to the format above. There should be no space in the message. Wait for your result to be delivered to your mobile phone via sms.
How to Print Your Result
Follow the following steps to print your result. You can decide to email it to your email or use the print button on NABTEB result page. On your email, you can print whenever you wish to by:
Pressing "Ctrl P" on your computer.
Select and check your print preview
Go ahead and Print your result.
Recommended: How to check WAEC result