The West African Examination Council (WAEC) just released the WAEC result for students who participated in the 2023 West African Senior Secondary School Certificate (WASSCE) which was concluded on Friday 23rd June 2023 is out. So, all candidates can now check their WASSCE result online or through their mobile phone.
Having known that, the question on whether WASSCE result has been released or not has been answered. However, the major focus of this article is to help students on how to check the result and this will put a stop to "I want to check my waec result".
The steps on how to check the result will be explained in details as I proceed and more importantly the performance rate will also be shared.
Now to the main purpose of this article which is how to access your result online and through SMS.
Read: Facts about WAEC Upgrade
Note: Candidates who are not indebted to the council will be able to access and check their results online, using the result checker PIN on their smart identity cards used during the conducts of the examination
How to Check WAEC Result Online

It is important for you to know that your examination number , serial number on your scratch card, and PIN on your card are what you need to access it. Ensure that you enter all your details correctly to avoid error.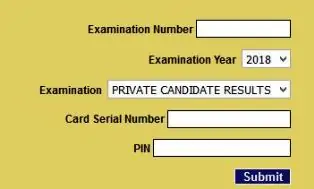 The steps below will guide you on how to check your result through WAEC portal:
Log on to West African Examination Council (WAEC) checker website https://www.waecdirect.org/
Enter your 10-digit WAEC Examination Number. (This is your 7-Digit centre number followed by your 3-digit candidate number eg. 4123456789)
Enter the 4 digits of your Examination Year eg. 2022
Select the Type of Examination
Enter the Card Serial Number found on the reverse side of your Scratch card.
Enter the Personal Identification Number (PIN) on your Scratch card
Click Submit and wait for the results window to come up
WAEC Result Scratch Card
The Result Checker PIN and Serial Number required by the candidates to check their results online are contained on the candidate's Smart Identity Card i.e scratch card used during the conduct of the examination.
How to Check WAEC Result Using Phone

Below is the procedure to follow to access your waec result through your phone:
Send SMS using your phone in the format below:
WAEC*ExamNo*PIN*ExamYear
To short-code 32327 (MTN, Celtel & Glo subscribers)
For example -:
WAEC*4250101001*123456789012*2022
Note: Ensure you adhere strictly to the format above. There should be no space in the message. Wait for your result to be delivered to your phone via SMS. (SMS Cost N30 Only).
WAEC Result Statistics
Lastly, the performance rate or statistics of 2023 SSCE showed an improvement when compared to 2022. The performance rate was released by Head of National Office (HNO) at West African Examination Council (WAEC) test and training center Ogba in Lagos.
Mr Patrick Areghan said that 1,361,608 candidates, representing 84.38 per cent, obtained credits and above in a minimum of five subjects (i.e. with or without English Language and/or Mathematics). Furthermore, 1,287,920 candidates representing 79.81%, obtained credits and above in minimum of five (5) subjects, including English Language and Mathematics.
It was also said that the results of 262,803 candidates, representing 16.29% of the total number that sat the examination are being withheld in connection with various reported cases on examination malpractice.
If you have any problem checking your WAEC result online or through SMS, don't hesitate to leave a comment in the box below. We are always ready to help.
Read: How WAEC Result are graded