Education
6 Important Things Nigerian Undergraduate Must Do Before Graduation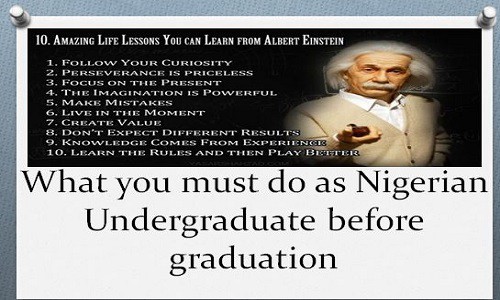 The challenges a handful of Nigerian graduates face is what compels me to write this short article to advice Nigerian undergraduate on what to learn and do before graduation.
It is your build up as an undergraduate that will help you and make you stand out as a graduate. An adage says "what a bird eats is what he will fly with." If you take heed to some of the things I am about to discuss, it will be of good help to you after your graduation.
6 Things Nigerian Undergraduate Must do before graduation
Know the prospect of your course and how to make the best use of it
Most times the failure of an undergraduate student to understand the prospect of his/her course of study is the beginning of frustration. This kind of frustration comes as a result of knowing what to do and how to prosper with the course of study.
It is easier for someone that study Law or Nursing to know his prospect than someone who studies Biology in Nigerian University. However, irrespectively of your chosen field if you can find out early what you can make of it the better, it will be for you.
Network
One of the critical skills of this present age is the ability to see, understand networks, and use them to your advantage. You are who you know because who you know will eventually shape you. It is then crucial to locate the right people before you graduate and connect with them. Also, know how to access the correct information from the network you have created.
Make sure you do your internship where you can gain relevant knowledge
One of the attitudes that are prevalent among Nigeria Undergraduate is their nonchalant attitude towards this program. Even if they go for it, all they will be looking for is a company that pays well.
Knowledge through on job experience via your IT should be your priority and not the paycheck.
Learn good communication skill, teamwork, and leadership skill
Some of the skills recruiters look for in their ideal candidate are teamwork, leadership skill, and communication skill. If you can use when you are still an undergraduate to develop these skills, the better it will be for you.
Learn to trust your gut
A gut is your instinct, and it is the inner compass guiding you from where you are to where you want to go. So trust your gut simply means be in tune with it. According to T.D. Jakes, when you harnessed, refined, and heeded to your instinct, it can provide the key to unlocking your most productive, most satisfying, and most joyful lives.
Know how to write a good CV
According to my research, a good CV will include personal details, Education details, Career history/Professional experience, Position of responsibility/other achievements, and outside interest. These are what you need to know among other things when writing a good CV.
I hope I have been able to help Nigerian Undergraduate on what to do before graduation.
Recommended: Best and lucrative skills to learn in Nigeria