Cut off Mark
UI Admission Cut Off Mark for Each Department 2022/2023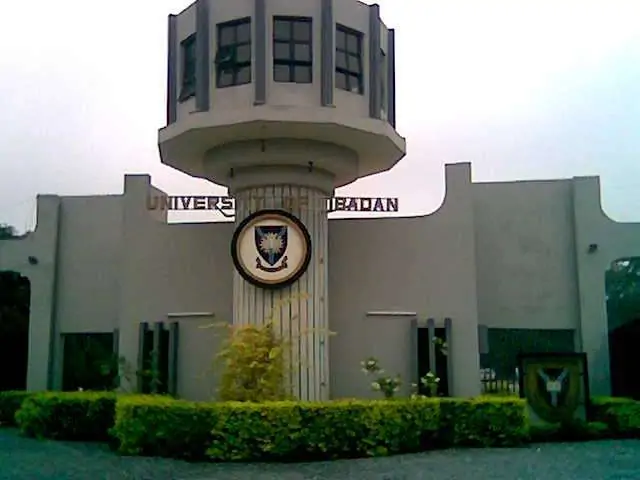 The 2022/2023 UI admission cut off mark into different undergraduate programmes has been released by the management.
The UTME cut off mark is 200 for all the programmes offered in the school.  This is one of the criterias to partake in the school admission screening exercise.
Prospective students who have checked their PUTME scores can now check their department cut-off mark to whether they stand a chance to be admitted.
UI Cut Off Mark 2022/2023
The UI cut-off mark by each department in the University of Ibadan has being put in the table below. It is divided into merit and ELDS (Educationally Less Developed States).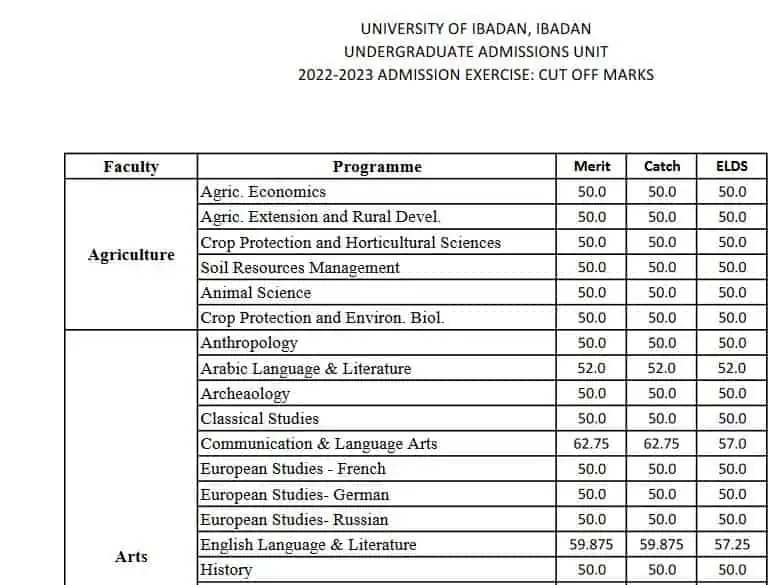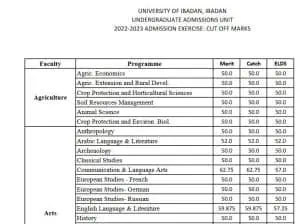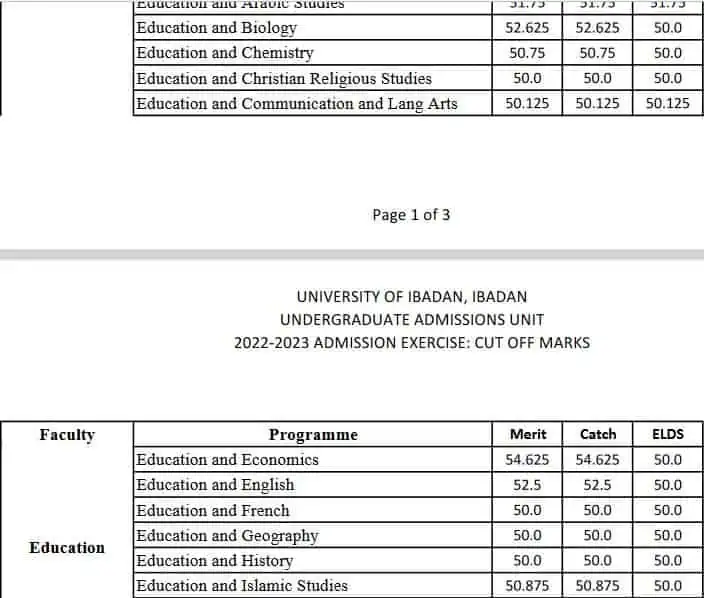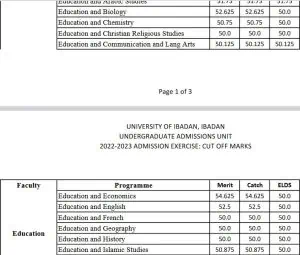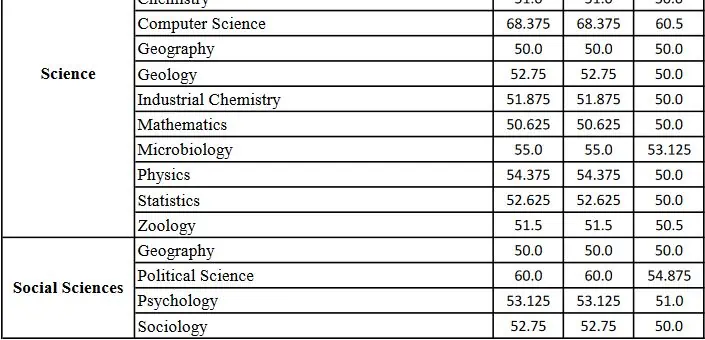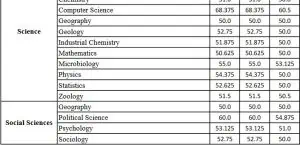 The list of ELDS in Nigeria includes: ADAMAWA, BAUCHI, BAYELSA, BENUE, BORNO, CROSS RIVER, EBONYI, GOMBE, JIGAWA, KADUNA, KANO, KATSINA, KEBBI, KOGI, KWARA, NASARAWA, NIGER, PLATEAU, RIVERS, SOKOTO, TARABA, YOBE, ZAMFARA.
The above states are given special consideration during admission which has reflected in the UI cut off mark that was released. This consideration is approved by JAMB.
University of Ibadan Admission Updates
This is to inform candidates that recommendation for admission will be based on the aggregate score obtained from JAMB score and Post UTME score. The JAMB score and Post UTME score will be scaled down to 50 each and the summation of the scores is the aggregate score.
Candidates are therefore advised to check their dashboard for their aggregate scores. This applies to only candidates who scored 50 and above in the Post UTME screening.
UI Admission Cut Off Mark for All Courses 2021/2022

The reason why I post UI admission cut of mark for 2021/2022 is to let candidates who will be seeking admission into the school see the mark required to gain admission into the University of Ibadan. This will help candidates to understand the pattern and trend of the minimum score required.
This is the UI Post UTME cut off mark that is released recently for those that participated in the UI screening exercise. Once you meet this minimum point, you will be offered admission.
| | | | |
| --- | --- | --- | --- |
| PROGRAMME | MERIT | CATCHMENT | ELDS |
| AGRICULTURAL ECONOMICS | 52.62 | 52.62 | 50 |
| AGRICULTURAL EXTENSION AND RURAL DEVELOPMENT | 51.375 | 51.375 | 50 |
| AGRONOMY | 51.875 | 51.875 | 50 |
| ANIMAL SCIENCE | 50.75 | 50.75 | 50 |
| AGRICULTURE (CPEB) | 50 | 50 | 50 |
| ANTHROPOLOGY | 53 | 53 | 50 |
| ARABIC LANGUAGE AND LITERATURE | 53 | 53 | 50 |
| ARCHEAOLOGY | 53 | 53 | 50 |
| CLASSICAL STUDIES | 52 | 52 | 51 |
| COMMUNICATION AND LANGUAGE ARTS | 60.75 | 60.75 | 56.5 |
| ENGLISH LANGUAGE AND LITERATURE | 58.62 | 58.62 | 53.37 |
| EUROPEAN STUDIES – FRENCH | 50.75 | 50.75 | 50 |
| EUROPEAN STUDIES – GERMAN | 55.375 | 55.375 | 50 |
| EUROPEAN STUDIES – RUSSIAN | 53.375 | 53.375 | 50 |
| HISTORY | 51 | 51 | 50 |
| IGBO | 50 | 50 | 50 |
| ISLAMIC STUDIES | 51 | 51 | 51 |
| LINGUISTICS | 59 | 59 | 54.5 |
| MUSIC | 50 | 50 | 50 |
| PHILOSOPHY | 53 | 53 | 50 |
| RELIGIOUS STUDIES | 54 | 54 | 50 |
| THEATRE ARTS | 55.12 | 55.12 | 51.37 |
| YORUBA | 53 | 53 | 50 |
| BIOCHEMISTRY | 60.375 | 60.375 | 58.5 |
| DENTISTRY | 71.875 | 71.875 | 64.75 |
| ENVIRONMENTAL HEALTH SCIENCE | 55.625 | 55.625 | 54.625 |
| HUMAN NUTRITION AND DIETETICS | 57.75 | 57.75 | 57 |
| MEDICAL LABORATORY SCIENCE | 68.25 | 68.25 | 61.375 |
| MEDICINE AND SURGERY | 76.25 | 76.25 | 74.75 |
| NURSING SCIENCE | 68.375 | 68.375 | 62.125 |
| PHYSIOLOGY | 57.5 | 57.5 | 56.375 |
| PHYSIOTHERAPY | 66.5 | 66.5 | 66.5 |
| ADULT EDUCATION | 51.625 | 51.625 | 50 |
| EARLY CHILDHOOD EDUCATION | 51 | 51 | 50 |
| EDU/ARABIC | 58.37 | 58.37 | 53 |
| EDU/BIOLOGY | 50.625 | 50.625 | 50 |
| EDU/CHEMISTRY | 52 | 52 | 50 |
| EDU/CLA | 57.375 | 57.375 | 53 |
| EDU/ECONOMICS | 52.75 | 52.75 | 50 |
| EDU/ENGLISH | 56.875 | 56.875 | 53 |
| EDU/FRENCH | 52.125 | 52.125 | 50 |
| EDU/GEOGRAPHY | 51 | 51 | 50 |
| EDU/HISTORY | 52.5 | 52.5 | 50 |
| EDU/IRS | 53.125 | 53.125 | 50 |
| EDU/MATHEMATICS | 56 | 56 | 50 |
| EDU/PHYSICS | 52 | 52 | 50 |
| EDU/POLITICAL SCIENCE | 53.875 | 53.875 | 50 |
| EDU/REL ST | 53.75 | 53.75 | 50 |
| EDU/YORUBA | 51 | 51 | 51 |
| EDUCATIONAL MANAGEMENT | 50.5 | 50.5 | 50 |
| GUIDANCE AND COUNSELING | 51 | 51 | 50 |
| HEALTH EDUCATION | 51 | 51 | 50 |
| HUMAN KINETICS | 51 | 51 | 50 |
| LIBRARY, ARCHIVAL AND INFORMATION STUDIES | 51 | 51 | 50 |
| SPECIAL EDUCATION | 52 | 52 | 50 |
| LAW | 65.37 | 65.37 | 64 |
| PHARMACY | 69.87 | 69.87 | 63 |
| AQUACULTURE AND FISHERIES MANAGEMENT | 53 | 53 | 51 |
| FOREST PRODUCTION/PRODUCTS | 50 | 50 | 50 |
| SOCIAL AND ENVIRONMENTAL FORESTRY | 50 | 50 | 50 |
| WILDLIFE AND ECOTOURISM MANAGEMENT | 52 | 52 | 51 |
| ANTHROPOLOGY | 55 | 55 | 53 |
| ARCHEAOLOGY | 55 | 55 | 53 |
| BOTANY | 50.625 | 50.625 | 50 |
| CHEMISTRY | 52 | 52 | 50 |
| COMPUTER SCIENCE | 65 | 65 | 62.5 |
| GEOGRAPHY | 52 | 52 | 50 |
| GEOLOGY | 50.75 | 50.75 | 50 |
| INDUSTRIAL CHEMISTRY | 56 | 56 | 53 |
| MATHEMATICS | 52 | 52 | 50 |
| MICROBIOLOGY | 56 | 56 | 52.87 |
| PHYSICS | 51 | 51 | 50 |
| STATISTICS | 52.5 | 52.5 | 50 |
| ZOOLOGY | 51.75 | 51.75 | 50 |
| ARCHITECTURE | 61 | 61 | 54.25 |
| ESTATE MANAGEMENT | 51 | 51 | 50 |
| URBAN AND REGIONAL PLANNING | 51 | 51 | 50 |
| ECONOMICS | 60 | 60 | 57.25 |
| GEOGRAPHY | 52 | 52 | 50 |
| POLITICAL SCIENCE | 58.25 | 58.25 | 57.62 |
| PSYCHOLOGY | 56.12 | 56.12 | 52.37 |
| SOCIOLOGY | 56.5 | 56.5 | 55 |
| AGRICULTURAL AND ENVIRONMENTAL ENGINEERING | 50.875 | 50.875 | 50 |
| CIVIL ENGINEERING | 63 | 63 | 61.875 |
| ELECTRICAL AND ELECTRONICS ENGINEERING | 65.875 | 65.875 | 60.875 |
| FOOD TECHNOLOGY | 50.5 | 50.5 | 50 |
| INDUSTRIAL AND PRODUCTION ENGINEERING | 54.87 | 54.87 | 52 |
| MECHANICAL ENGINEERING | 68.25 | 68.25 | 63.375 |
| PETROLEUM ENGINEERING | 61 | 61 | 58.25 |
| WOOD PRODUCTS ENGINEERING | 53 | 53 | 51 |
| VETERINARY MEDICINE | 56 | 56 | 54 |