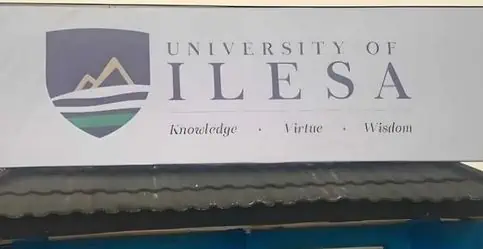 The University of Ilesa is an upgrade of Osun State College of Education Ilesa. The government of Osun State approved this development. Also, The National University Commission (NUC) has approved the University of Ilesa to run 32 courses for the 2023/2024 academic session. This University becomes Nigeria's 60th State University and 220th University.
University of Ilesa Courses
B.Sc. Anatomy
B.Sc Physiology
B.Sc. Accounting
B.Sc. Business Administration
B.Sc. Economics
B.Sc. Ed. Economics
B.Sc. Political Science
B.Sc. Ed. Political Science
B.Sc. Tourism and Hospitality
B.Sc. Transport Planning and Logistics Studies
B.A. Linguistics, B.A. Ed. English
B. A. English Language
B.A. History and International Studies
B.A. Music, B.A. Ed. Music
BMLS Medical Laboratory Science
B.Sc. Microbiology
B.Sc. Biochemistry
B.NSc. Nursing Science
B.Sc. Public Health
LL.B. Law
B.Sc. Computer Science
B.Sc. Cyber Security
B.Sc. Ed. Computer Science
B.Ed. Guidance and Counselling
B.Ed. Business Education
B.Ed. Educational Management
B.Ed. Adult and Continuing Education
B.Sc. Ed. Agricultural Science
B.Ed. Social Studies
B.Sc. Ed. Integrated Science.
General Admission Requirements
A credit pass at 'O' Level or equivalent in English Language and four other subjects at least in one sitting (This makes it a minimum of five credit passes)
Candidates must choose University of Ilesa as their first choice in the UTME
Candidates must meet the minimum required cut off mark of the school
Candidates must participate in UTME OR a direct entry student