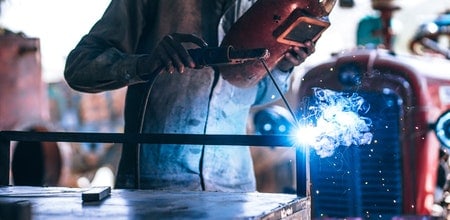 A vocational school provides training for a specific vocation in industry, agriculture or trade. It is sometimes also called a trade school or a career center.
Furthermore, they are to provide skilled technical and professional manpower required to perform the tasks of a particular and specific job, thereby enhancing development and sustenance of the National Economy.
A Vocational school differ from a academic high school which usually prepare students who aim to pursue tertiary education, rather than joining the workforce directly.
List of vocational school programs
The programs are available in five sectors i.e. hospitality and tourism, power/energy/engineering, building construction, service and agro-processing.
Building construction
Plumbing
Masonry
Painting and Decoration
Tiling
Electrical Installation
Carpentry and Joinery
Welding and Fabrication
Power/Energy/Engineering
Automobile Mechanic
Power System Protection
Turbine Maintenance
Mechanical Auxiliaries' maintenance
System Electrical Operation
Electrical Maintenance
Computer Hardware Maintenance and Repairs
GSM Repairs
Satellite Installation and Maintenance
Refrigeration and Air-conditioning Repairs and Maintenance
Tri-cycle Assembly and Maintenance
Motor Cycle Repairs and Maintenance
Hospitality, Leisure and Tourism
Hospitality and Catering
Travelling and Tourism
Servicing
Office Technology
Leather works
Furniture Making
Garment Making
Agro-Processing
Recommended: How to overcome business failure
List of approved vocational schools and courses in Nigeria

S/NO
INSTITUTION NAME
APPROVED VOCATIONAL COURSES
1.
Adhama Innovation Enterprise Institute,

171 Mission Road,

Bompai, Kano

NVC Fashion Design
2.
Agency for Mass Education(AME) Training

Centres,  OAU Quarters, Asokoro District,

P.M.B. 197, Garki Abuja. 09 3147067

NVC Agriculture
3.
Agency for Mass Education (AMF) Technology Centre, Asokoro, Garki, FCT. VTC Kwali, Abuja, Campus
NVC Agriculture
4.
Ambassador College of Management. and

Technology, 80c Igwuruta Road(Tank)

Rumuokwurushi, Port-Harcourt

 NVC Office    Secretarial Assistant
5.
Armed Forces Electrical and Mechanical Engineering Mechatronics School Mogadishu Barracks Asokoro, Abuja
NVC Automotive Mechatronics
6.
Best Global Business and Financial School Kachia Road, Kaduna
NVC Office Secretarial Assistant
7.
Bonny Vocational Centre,

Bonny Island, Rivers State

NVC Carpentry and Joinery

NVC Computer Studies

NVC Electrical Installation and Repair Works

NVC Hospitality and Tourism Studies

NVC Office Secretarial Assistant

NVC Plumbing & Pipefitting

NVC Refrigeration and Air-conditioning

8.
Buckingham Academy of Management. and

Technology,

Buckingham Estate old Awka Road near

Iyienu Mission Hospital Ogidi Anambra State

NVC Computer Studies
9.
Calvary Foundation Institute of Technology,

(CAFITECH), Enugu, Enugu State

NVC Carpentry and Joinery

NVC Electrical Installation and Repair Works

10.
Central Institute of Business and Technology, Kilometer 4 Benin-Abraka Road, Egba, Benin City
NVC Electrical Installation

NVC Fashion Design

11.
Cherish Enterprise Institute,

Batsari, Katsina State

NVC Computer Studies
12.
Complete Computers and Technology Institute, Benin City, Edo State
NVC Computer Studies
13.
Dalewares Institute of Technology, Lagos 33 Imani Dauda St. Off Eric Moore Road, Surulere, Lagos State.  dalewares@yahoo.com

enquiry@dalewaresinstituteoftechnology.com

NVC Computer Studies

NVC Printing Technology

14.
Damson Institute of Management and Technology,

No 5 Damson Street, Off Etsu Jetta Street,

Phase 1, Jikwoyi,

Along Nyanya Karshi Road,

FCT Abuja

NVC Hospitality and Tourism Studies
15.
DOF Institute of Catering and Hospitality,

Dalian Plaza

43, Oritshe Street off Obafemi Awolowo zWay Box 800, Ikeja.

NVC Hospitality and Tourism Studies
16.
ECWA Information and Computer Science Institute, Jos, Plateau State
NVC Computer Studies

NVC Office Secretarial Assistant

17.
Environmental Sustainability Thinking and Action Centre (ESTAC), Institute of Construction & Engineering, Enugu.

1, Mike Toney Avenue, Phase 6 Trans Ekulu, Enugu State.

info@estacnigeria.orgchannel2010@yahoo.com

NVC Block Laying and Concreting
18.
Entrepreneurship Vocational Technology ltd, Matan Fada, Kano State, Matan Fada, Kano.

08033379371

NVC Carpentry and Joinery

NVC Computer Studies

NVC Fashion Design

NVC Fabrication and Welding

19.
Exhale Salon and Beauty Institute, No. 2A

Kwato Road/Ibrahim Zaki Road, Unguwan

Rimi, Kaduna. 08033145531

NVC Cosmetology and Beauty Therapy
20.
FCFM-Afaka Entrepreneurship Centre,

Kaduna, Kaduna State

NVC Agriculture
21.
First Mark Innovation School of Technology, Ado-Ekiti
NVC Computer Studies
22.
Flyingdove Institute of Information

Technology, Abuja, FCT

NVC Computer Studies
23.
Gateway Industrial Petrogas Institute, Oni,

Ogun State

NVC Fabrication and Welding

NVC Plumbing & Pipefitting

24.
Global Maritime Academy, Ogoni-Olomu, Delta State
NVC Computer Studies

NVC Electrical Installation and Repair Works

NVC Office Secretariat Assistant

25.
Hajia Sa'adatu and Umul-khairi Foundation, Kano
NVC Cosmetology and Beauty Therapy

NVC Fashion Design

26.
Hanzy Beauty International Institute Ltd,

Kaduna

NVC Cosmetology and Beauty Therapy
27.
Highland College of Technology & Further Studies, Ibadan,

C/o Segun Fatoki, 98 Iwo Road, Ibadan, Oyo State.

segunfatoki@hotmail.comhighlandcollege@yahoo.com

NVC Hospitality and Tourism Studies
28.
Homik Oil and Gas Facility Engineering School,

Homik Rehoboth Court by Jesus Evang Power Mission,

NTA/ Choba Road Ozuoba ,

Port Harcourt,

Rivers State

NVC Oil and Gas Facilities Engineering Technology
29.
Hotel & Tourism Business School,

Ikeja, Lagos State

NVC Hospitality & Tourism Studies
30.
IMFI-ICT Academy,

54, Nsikak Eduok Avenue,

P.O.Box 1723, Uyo, Akwa Ibom State.

www.imfiacademy.cominfo@imfiacademy.com

NVC Computer Studies

31.

Industrial Training Fund(ITF) Models Skills Training Centre, Adetokunbo Ademola Crescent, Maitama, Abuja
NVC Hospitality & Tourism Studies

NVC Automotive Mechatronics

NVC Electrical Installation and Repair Works

32.
Innovation Institute of Technology,

No. 5. Yakubu Gowon Way, Kaduna

NVC Computer Studies
33.
Institute of Administration and Construction Engineering, Awgu, Enugu State
NVC Electrical Installation and Repair Works

NVC Fabrication and Welding

34.
Institute of Information and Computer Technology, Awgu, Enugu State
NVC Computer Studies
35.
International Chaplaincy Corps Network (ICCN) Institute of Security Technology and Management, Orlu, Imo State
NVC Computer Studies

NVC Office Secretarial Assistant

36.
Izisco Obos Institute of Marine Studies & Technology, Warri, Delta State
NVC Electrical Installation and Repair Works

NVC Fabrication and Welding

37.
JKN Training Centre, Oshodi,

Lagos

NVC Electrical Installation and Repair Works

NVC Refrigeration and Air-conditioning

38.
Kazaure Innovation Institute,

c/o Hussaini Adamu Federal Polytechnic Kazaure, Jigawa State

NVC Fashion Design
39.
Lagos City Computer College,

7 Bashiru Oweh Street, P.M.B. 21200, Ikeja, Lagos State.

NVC Computer Studies
40.
Landmark Academy of Hospitality Management, Port Harcourt
NVC Hospitality & Tourism Studies
41.
Linet Paul Innovative Institute,

No. 1 Sunmail Drive, off Isaac Boro Expressway, Etegwe- Yenagoa, Bayelsa State.

NVC Computer Studies
42.
Lobi School of Management and Technology, Makurdi
NVC Carpentry and Joinery

NVC Computer Studies

NVC Electrical Installation and Repair Works

43.
Mario Institute of Hospitality Management and Entreprenuership Education

Uhunowerre,

Igbo – Eze South LGA

Nsukka,

Enugu State

NVC Hospitality and Tourism Studies
44.
Metropolitan Institute of Technology,

Benin City, Edo State.

NVC Computer Studies

NVC Fashion Design

45.

Minna Institute of Technology and Innovation, Kpakungu Road, Minna, Niger State
NVC Electrical Installation and Repair Works
46.
NAOWA Institute of Management and Technology, Asokoro, Abuja
NVC Cosmetology and Beauty Therapy
47.
National Centre for Women Development

(NCWD), Tafawa Balewa Street, Central

Business District, Abuja

NVC Computer Studies

NVC Cosmetology and Beauty Therapy

NVC Hospitality and Tourism Studies

48.

Nigeria–Korea Friendship Institute of Vocational and Advanced Technology,

Lokoja,

Kogi State

NVC Automotive Mechatronic
49.
NIIT Education and Training Centre. Or

NIIT/IDM Building, 9 Oba Akran Avenue,

Ikeja Lagos

rishi.malik@idmng.com

NVC Computer Studies
50.
NIIT Surulere Centre,

Lagos

NVC Computer Studies
51.
NIIT Festac Centre,

Lagos

NVC Computer Studies
52.
NIIT Abeokuta Centre, 69, Kuto Road, Abeokuta, Ogun State.   abeokuta@niitng.com
NVC Computer Studies
53.
NIIT Ajah Centre, Km 11, Lekki-Epe Express Way, First Gate – Ikota,(By Great Brands).

ajah@niitng.com

NVC Computer Studies
54.
NIIT Benin Centre, 11, Adesuwa Grammar

School Road, GRA, Benin City, Edo State. benin@niitng.com

NVC Computer Studies
55.
NIIT Garki Centre, 4, Dambata Close, Off Yola Street, Area 7, Garki, Abuja.
NVC Computer Studies
56.
NIIT Gbagada Centre,  141C, GbagadaOshodi Express Road ( Opposite Hotel New Castel), Lagos State.  festac@niitng.com
NVC Computer Studies
57.
NIIT Ikorodu Centre, 14,

Olorunojowon Street, (Besides Zenith Bank), Lagos State.

ikorodu@niitng.com

NVC Computer Studies
58.
NIIT Kaduna Centre, 5, Station Road, Kaduna North, Kaduna State.

kaduna@niitng.com

NVC Computer Studies
59.
NIIT Offa Centre, 2nd Floor, Olatinwo House, Olofa Way, Offa, Kwara State.

offa@niitng.com

NVC Computer Studies
60.
NIIT Ota Centre, Tantolorun House, KM 1, Idi-iroko Road, Otta Round-About, Otta, Ogun State.

otta@niitng.com

NVC Computer Studies
61.
NIIT Owerri Centre, Beside Diamond Bank, Item Street, Ikenegbui, Owerri, Imo State.

owerri@niitng.com

NVC Computer Studies
62.
NIIT Uyo Centre, 30, Udosen Uko Street, Off Oron Road, Uyo, Akwa Ibom State.

uyo@niitng.com

NVC Computer Studies
63.
 NIIT Warri Centre, 43, Airport Road, Effurun, Warri, Delta State. warri@niitng.com
NVC Computer Studies
64.
NIIT Wuse-Abuja Centre, 68, Ademola Adetokunbo Crescent, Wuse 2, Abuja.
NVC Computer Studies
65.
Nspire Educational Services, Oyo House,

Central Business District, Abuja FCT

NVC Computer Studies
66.
OfferCentre Institute of Agriculture Olupona, Iwo, Osun State
NVC Agriculture

67.

Oseni Elamah ICT Institute

No. 39 Polytechnic Road Auchi.

NVC Computer Studies
68.
Peter Akinola Youth Centre for Industrial Training, Abeokuta, Ogun State
NVC Block laying and Concreting

NVC Computer Studies

NVC Fashion Design

69.
Peugeot Automobile Nigeria (PAN) Ltd.

PAN Training Centre,  Plot1144, Mallam

Kulbi Road,Kakuri Industrial Estate,PMB

2266 Kaduna. www.peugeotnigeria.com

NVC Automotive Mechatronics

NVC Motor Vehicle Mechanics

70.
Prime Innovation Institute of Technology, Ajah, Lagos
NVC Computer Studies
71.
Rocana Institute of Technology,

Enugu

NVC Computer Studies

NVC Printing Technology

72.
Rolof Computer Academy

Plot 110, Apala Street, Off Okumagba Avenue,

Warri,

Delta State

NVC Computer Studies
73.
Southern Nigerian Institute of Innovation Technology, Ifewara, Ile Ife, Osun State
NVC Computer Studies
74.
St. Winifred Innovative Institute,

Human Resources Development Centre, Sango Dina Village off Oloni-Olunde Ayegun Road, P.O. Box 16744, Ibadan, Oyo State.

st.winifred@yahoo.com

NVC Computer Studies
75.
Tashiba  Institute of Information Technology

Gyallesu, Zaria,

Kaduna State

NVC Computer Studies
76.
Topearl Catering Institute,

Port Harcourt, Rivers State

NVC Hospitality & Tourism Studies
77.
UA College of Science and Technology, Osuofia, Anambra State
NVC Block laying and Concreting
78.
Umuebe Farm College, Abakaliki,

Ebonyi State

NVC Agriculture
79.
Unival Institute of Technology, Benin City
NVC Computer Studies
80.
UTAGBA-UNO Vocational Enterprise

Institute, Isumpe Road, Utagba-Uno, Via Kwale, Ndokwa West LGA, Delta State joebinum@yahoo.com

NVC Carpentry and Joinery

NVC Computer Studies

NVC Fabrication and Welding

81.
Yenagoa Enterprise School, Yenagoa
NVC Office Secretarial Assistant
82.
Young Men Christian Association (YMCA) Vocational Training Centre, Kaduna, Kaduna State
NVC Fabrication and Welding
Check through one of the regulatory body of vocational schools in Nigeria which include National Board of Technical Education for more information