In this article, I will show you WAEC result sample i.e. the original result and not the statement or printout. There are features that are unique on it which makes it different from others.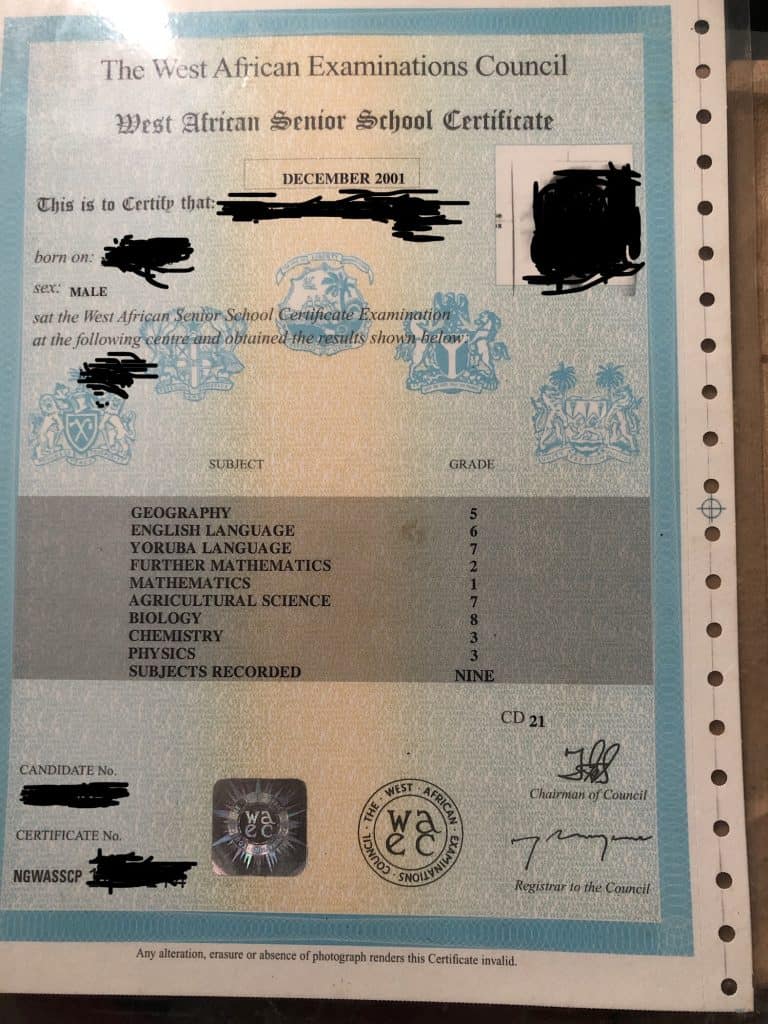 Features on Original WAEC Result Sample
The year you wrote the exam is on it
Your date of birth
Sex
Your examination centre
Your passport photograph
Subjects and Grade: These are the subjects you wrote when you sat for either for WASSCE or GCE
Candidate Number
Certificate Number
WAEC Logo
Nigeria coat of arms image
Signature of the Chairman of Council
Signature of the Registrar to the Council
At the bottom, you will see "Any alteration, erasure or absence of photograph renders this certificate invalid
If you turn to the back, you will see grades and interpretation. And it is clearly stated that only grades A1 – E8 are shown on this certificate.
Furthermore, at the back you will see a statement towards the bottom that reads:
The certificate issued is and remains the property of the West African Examination Council at all times and it is issued on the following conditions:
The certificate must be surrendered to The West African Examination Council on Request
The certificate should be kept in safe place
The West African Examinations Council will not issue any copies of the original certificate.
On the other hand, the WAEC statement of result doesn't contain all the above features. You will only see your name, your examination number, your subjects and grade. In most cases, original WAEC result are more acceptable than the print out and statement of result issued by your secondary schools.
In conclusion, I hope I have been able to give you Original WAEC result sample. This will help you to know how yours will look like.