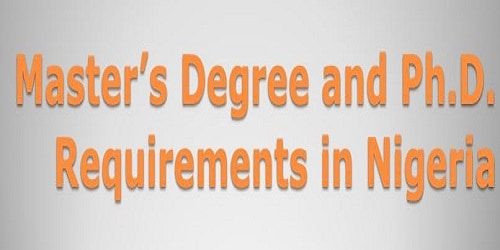 I know that some of my readers are interested in understanding the admission requirements for Master's degree and Ph.D. degree programme in Nigeria.
I was once in your shoe, and that is why I have decided to share my view based on my experience. I had my Master's degree at UI and currently undergoing a Ph.D. degree programme at FUNAAB. So I hope I should be able to be of help.
The rate at which people seek postgraduate admission in nigeria is increasing on daily basis and this is not peculiar only to Nigeria, it is all over the world. And the reason for the increase is that students want to sharpen their skills and increase their employability rate.
The good news is that postgraduate admission isn't as difficult as undergraduate admission and there are many scholarships for Masters program and Ph.D. compare to undergraduate.
However, universities like UI and UNILAG do conduct entrance examination for students seeking postgraduate admission and this has made these universities difficult to offer Masters degree admission to candidates. But you don't need to restrict yourself to these two universities for admission, there are numerous universities in Nigeria, UK, USA, Canada, etc. that will give you admission without much stress.
Master's degree Requirements
To be eligible for Master's degree, you must have obtained a Bachelor's degree with a minimum of Second Class (Upper Division). However, the school may consider candidates with Second Class lower degree from a recognized University. It implies that most University accepts Second Class lower for Master's programme in Nigeria. But your CGPA must not be lower than 3.0 in relevant fields.
You must have at least five credits in your O'level which must include Mathematics, English and other related subjects
You must have finished the compulsory one-year NYSC.
English proficiency test is required for international students (most Universities in UK, US, Australia, Canada etc. require a test of English if it is not your first language).
Kindly note that University of Ibadan (UI) requires all candidates applying for the degree of Master or PGD would be required to take an English Proficiency test.
No University in Nigeria accept HND for Master's degree programme. You will have to do PGD (Postgraduate diploma) before you can proceed for Masters.
In most Universities in Nigeria, Master's degree takes a minimum of 2 years (4 semesters) and a maximum of 4 years (8 semesters). However, M.Sc. in UI and UNILAG takes 18 months (3 semesters).
Read: Universities selling postgraduate form
Ph.D. Requirements in Nigeria
To be eligible for admission to the Ph.D. degree programme, candidates must have obtained a Master's degree from a recognized University approved by Senate.
If you have a Master's degree from other University with Ph.D. grade, you can only proceed to Ph.D. degree programme where you have finished your Master's degree. Any attempt to go to another University, you will do one-year course work, and the school will examine you before you proceed to the Ph.D. degree programme. The same is true for Mphil/Ph.D. grade.
It is advisable to do Ph.D. programme at the University where you finished M.Sc.
Ph.D. grade in some schools is 60% or 3.5/5.0 or 5.0/7.0. Most schools still use percentage except few ones that use CGPA.
Additionally, the Ph.D. programme takes a minimum of 3 years (6 semesters) and a maximum of 5 years (10 semesters).
UI grade system for Ph.D. is quite different (they use Ph.D. grade and MPhil/ Ph.D. grade system). A grade point of 3.5 out of 5-point will offer you an MPhil/ Ph.D. admission if your result is from a recognized University. And this calculation will be done through your transcripts.
Most Universities in Nigeria will offer you admission for MPhil/ Ph.D. or MSc/ Ph.D. if you didn't do your Masters program at their University. MPhil/ Ph.D. or MSc/ Ph.D. means you will do one year of coursework and the remaining three years for your research work.
Recommended: List of Universities with the fast Postgraduate programme in Nigeria