JAMB
Top 10 Highest JAMB Score For 2022 UTME
It is not unusual of JAMB to announce the top 3 highest JAMB score immediately after the board has released its result to the public.
Note: 2022 JAMB highest scorer has not been released. However, I will update the post as soon has the result is out.
But this year (2021) JAMB decided to announced the top 10 highest JAMB score. The decision was made on the 31st of August 2021 during the policy meeting.
In this year UTME (2021), the board has announced the names of the 10 best candidates with their scores and state of origin. These are the candidates who defy all odds and score high in the exam.
Monwuba Chibuzor Chibuikem had the highest score with 358. He is from Lagos state and wants to study at Covenant University.
Is This Year JAMB Result Good
JAMB hasn't released the official performance of all the candidates that wrote 2022 UTME. However, from our assessment, this year result looks good when compared with 2021. I searched through forums where candidates do interact and I can say that the result shared is relatively good. I will update this post as soon as JAMB released the official statistics for this year.
2022 JAMB Highest Score
The scores I want to discuss here are not official from JAMB but from candidates who just checked their result. From the information I gathered today, 347, 324, 317, 310, 311, and 303 are scores that seems high for now. But I will update this article as soon as I get more high score.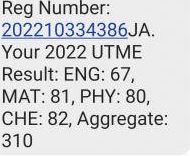 2021 UTME Highest Score
Monwuba Chibuzor Chibuikem – 358
Qomarudeen Abdulwasiu Alabi – 350
Adeogun Kehinde Oreoluwa – 350
Ajayi Eberechukwu Isaiah – 349
Okarike Favour Kenneth – 348
Omonona Oluwamayokun Victor – 347
Owoeye Israel Oluwatimilehin – 347
Ehizogie Jeffrey Aidelogie – 347
Ajeigbe Moyinoluwa Samuel – 346
Yakubu Abdulraheem Joshua – 343
The score below are for other candidates that had good score in JAMB, and this was gathered during our survey. We had two guys score above 300, one had 327 and the other had 317.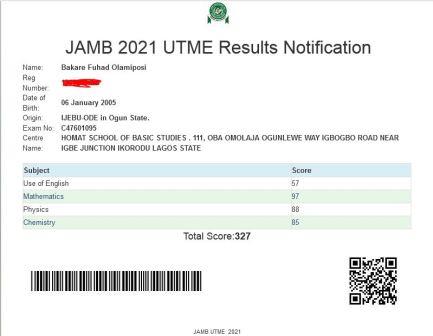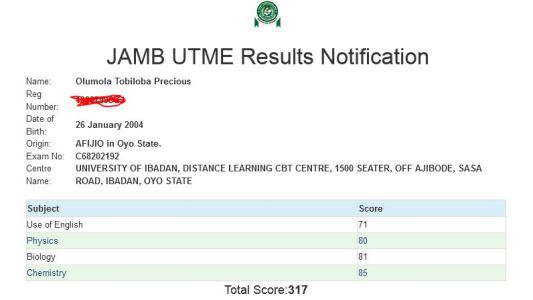 2020 UTME Highest Score
Maduafokwa Egoagwuagwu Agnes -365
Nwobi Okwuchukwu David – 363
Ojuba Mezisashe Shalom – 359
Elikwu, Victor Chukwuemeka – 359
Adebola Oluwatobi Paul – 358
Gboyega Oluwatobiloba Enoch – 356
Ojo Samuel Oluwatobi – 355
Utulu, Jebose George – 355
Osom Akan Awesome – 353
Akakabota Fejiro Simeon – 352
Ogundele Favour Jesupemi – 352
Alatise Monsurah Bisola. – 352
Adelaja Oluwasemilore Daniel – 352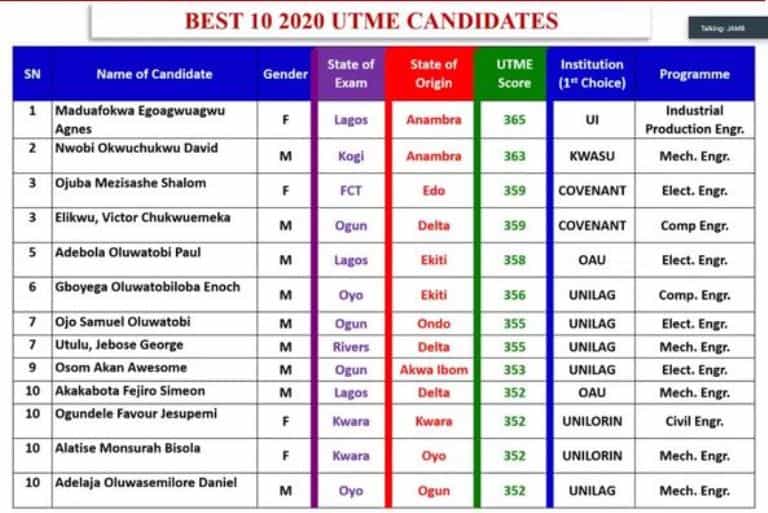 The thorough scrutiny that JAMB did on the results has reduced the number of candidates who will pass the exam through malpractice. And subsequently, results from JAMB will be a true reflection of the ability and capability of each candidate that sits for the exam.
2019 UTME Highest Score
Best score – Ekene Franklin – a 15-year-old boy from Abia State emerged the best candidate by scoring 347 marks
Second best score – Igban Emmanuel Chidiebube – a 16-year-old boy from Abia State came second by scoring 346 marks
Third best score – Oluwo Isaac Olamilekan – a 17 year old from Osun State trailed behind with 345
Note: JAMB will never announce the lowest score and there is no way you can get the actual candidate that have such result. The reason is that there is no pride in making announcement of candidates who has the lowest score.
I believe anyone can attain the feat the candidates above have achieved through diligence, hard work, perseverance, focus, and determination to excel.
The entire crew of servantboy says congratulations to these wonderful candidates.
If you haven't checked your result, you can click on Check UTME result to access your score.